Friends, this is a big month! The 2019 PowerSheets collection launches in 20 days (yahoo!!), we have two new websites coming, my podcast launches, etc., etc. Those things reflect months of prayer and hard work, but they are not the reason this is a big month.
This month is big because I'm seeing small things that have added up to the big things.
A lot of life feels like it happens to us, doesn't it? There is little we can do about many of our circumstances in various seasons of life. But. But! Sometimes the small decisions that we can make are the ones that count the most. Are you ready for this? Did you know we make an average of 35,000 decisions a day? Those decisions, big and small, all have arrows attached to them, pointing us in one direction or another.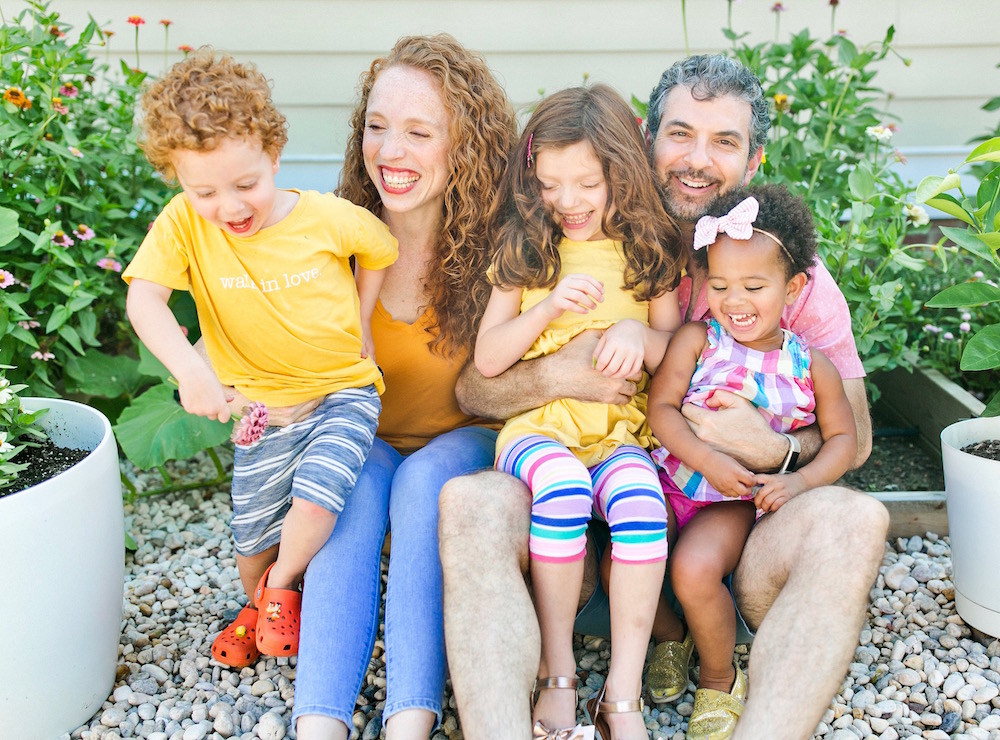 Photo by the amazing and wonderful Gina Z!
This month, I'm choosing to throw off everything that hinders me, and I'm aiming my decision arrows at doing life the way He wants me to. It has been the small things—little daily decisions made over time—that are adding up to the big things. With small but intentional decisions in our family routines, fueling the bodies and souls in this home, where I'm spending my time (and where I'm not, like social media for the most part), and the way I do everyday life with the Lord, I'm seeing fruit.
These changes and decisions haven't come overnight, though; fruitful things often start long before the month we're in—perhaps even years ago.
Take Big Rita, for instance. We let Big Rita, our giant pumpkin, loose from her vine a few days ago. Do you know how many years we tried to grow a giant pumpkin—or any pumpkin at all for that matter? Seven. Seven years, people! Year one: squirrels. Year two: yep, Nutty the Squirrel does it again. Year three: our baby pumpkin was run over by a car. Year four: too much rain. Year five: too much heat. Year six: I just don't even know. Year seven: We switched seed varieties, and I got some advice from a wise farmer friend. Over these seven years of waiting and patience and waiting some more, the Lord was teaching us a beautiful lesson: all things (and life change) come in His perfect timing. We didn't grow a giant pumpkin overnight—it grew us over the last seven years. She came right on time. (I even took her to MTH!)
Here's a look back at September and what's ahead this month…
Harvesting our purple potatoes was like a treasure hunt!
Between unexpectedly traveling home to Gulf Breeze, going under contract on our new space (totally unexpected—totally God—and too long of a story for this little blog post!), and officially starting the new homeschool year, September was full and good. There was a lot of praying and seeking Him.
My September Monthly Goals Progress:
— Seek Him. / Yes. As mentioned above. Having the Bible open all the time has helped me do this more than ever.
— Begin our cultivated homeschool year. / Yes! I also released my free downloadable Cultivated Homeschool Planner.
— Record the podcast. / Progress here! The intro has been recorded, podcast cover art has been designed, a name has been chosen, episode topics outlined, an editor has been hired, and now all I have to do is record content starting this week.
— Prepare well for the 2019 PowerSheets launch. / In progress! We released the new covers yesterday!
— Love Josh + Sarah and my parents well on our trip to Florida. / We canceled this trip last-minute with hurricane Florence headed our way, then re-booked it last-minute again to escape the storm with the kids. It was a needed and refreshing trip!
Watching the sunrise on the beach with my buddies. : ) 
— Celebrate Rosh Hashana. / Yes! Apples and honey all around!
— Have a surrendered quarterly sabbath. / Yes! Out of all the action steps I took from the Cultivated Calendar teachings, this is the one I'm most grateful for. Last fall, I looked ahead at my 2018 calendar and went ahead and blocked off 3 days once a quarter to take off. Instead of letting my calendar dictate my life, I made the intentional decision to block off these days ahead of time. This has been helpful!
— Savor September. / Yes, and I am so grateful for my PowerSheets for reminding me of this goal. I had several moments with the kids that are etched in my brain now from stopping to savor them and give thanks to the God who make them happen.
— Prayerfully lead the 54th Making Things Happen Conference. / This was the highlight of my year. I have yet to post about it because it's hard to put a life-changing experience into adequate words. It was incredible. All praise to Him! I love these ladies above! Photo by the delightful Rachel Coffey.
September Weekly Goals:
— Praise! / Yes! My weekly goal was simply to praise Him. In song, dancing around with the kiddos, on hikes, in conversation, in art, in words, in prayer—in as many ways as I could muster!
September Daily Goals:
— Chronological Bible. / I finished the Old Testament!!! My heart did cartwheels finishing Malachi and I actually felt sad about it. Then, I remembered I can read it again next year! I'm continuing my number one goal with this daily Bible reading using the Blue Letter Bible Chronological reading plan on Youversion.
— Strength + Joy / Progress was made here despite a neck injury that has been a little tricky. This is my goal to strength train. I do abs and some free weights here at home with the kiddos!
Now to October! 
October Monthly Goals:
— Throw off everything that hinders me and aim my arrows at doing life the way He wants me to. I'll report back next month on what exactly this looked like for me! I want to walk the walk before I talk about it.
— Enter into the most wonderful season of service and joy with our team and the good work He has blessed us with!
— Share why I have the hope I have.
— Bring the life of God to our children, which starts with us flourishing in faith.
— Get into a rhythm with homeschool. The Cultivated Homeschool Planner has been a game changer for me. We have our plans, now it's time to get into a consistent rhythm, try them out, and adjust as needed. So far, so great!
My quarterly PowerSheets goal refresh was right on time this week!
October Weekly Goals:
— Take care of our temples of the Holy Spirit. Ari expressed wanting to grow in balance and wellness, and I want to teach our kiddos healthy habits too—all with the aim of honoring the Lord and loving others well. We've already started cooking lessons with the kiddos, including knife skills for Grace so she can prepare fruits and vegetables in the kitchen. Here's a great video we watched to learn the basics!
— Pray for a *few* friends. As I was praying and asking God what He wanted me to work on this month, He kept nudging me to be in deeper prayer for just a few close friends instead of praying lightly for a lot of friends. I will pray for whomever He tells me to, but I also love this challenge to pour my heart out for friends in need more than usual this month.
— All of them. I encourage you to word goals however they make the most sense to you—don't worry about making them clear to everyone else. Case in point: this goal! "All of them" for me means a deeper commitment to cultivating the hearts in this home more than ever—and to celebrate the fruit we are already seeing.
— Believing a miracle happened in our lives and acting like it! Let me just go ahead and get this goal in motion right here and now. Friends, Ari and I are not the same people we were several years ago. The heart and life change we've experienced is significant, but this fact is easy to forget in day-to-day life. I do not want to forget this. A miracle happened in our lives and remembering this spurs me forward to share the hope we have. His grace is a real thing and it changes everything!
October Daily Goals:
— Bathe in the Word. I'm continuing my number one goal with this daily Bible reading using the Blue Letter Bible Chronological reading plan on YouVersion.
— Seek Him in all things instead of doing them my way or without asking Him first.
— Praise + joy! Working out with praise on my lips and joy in my soul!
— Speak restorative words. The idea of speaking restorative words came from a marriage class that Ari and I have been going through with our church. I want to practice this with everyone I meet! The words we share have the potential to change lives. 🙂
I love October!
Verses I'm loving for October:
Hebrews 12:1-3 has my heart right now, specifically the words "throw off everything that hinders."
And this one… 'Agree with God and be at peace; thereby good will come to you. Receive instruction from His mouth, and lay up His words in your heart. If you return to the Almighty, you will be restored: If you remove wickedness far from your tent and assign your nuggets to the dust, your gold of Ophir to the rocks in the ravines, then the Almighty will be your gold, the choicest silver for you. Surely then you will find delight in the Almighty and will lift up your face to God. You will pray to him, and he will hear you, and you will fulfill your vows. What you decide on will be done, and light will shine on your ways' (Job 22:21-29).
My little buddy learning rock, paper, scissors from one of our good friends at a wedding we had the joy of attending last week! These little moments in life are the best!
Your turn! What are your goals for October? What are you cultivating in this new month? I'll pick one of you to send a special surprise box of goodies to from the Cultivate What Matters shop. I love sending real mail, and I love hearing your thoughts! Congrats to September's winner, Meghann! Bonus giveaway: Take a guess at how much Big Rita weighs and whoever gets the closest will win some of our new shop products that launch on October 24th!