Hello, friends! Wow, what a month! March was packed and refreshing at the same time. A conference, a big trip, a book completed, and there are peach buds on my tree, y'all. It survived the snow! I am so grateful for all that happened in March. Here's a recap and my PowerSheets goals for April.
 I love when Gina comes to photograph us. She gets Grace to laugh every time!
My monthly PowerSheets goals for March:
– Finish my final book edits. YES!!! I sent in my book endorsements and two final edits yesterday. It goes to print tomorrow! I am crying typing this. My word for April is "Hallelujah" because I am so grateful for this and much more. Today we shared all the details about how you can join the book launch team here.
– Prepare prayerfully for MTH and our family vacation at the end of the month. MTH was the best yet and our vacation was also refreshing. Read more about our trip here and here for thoughts on how we changed what "vacation" means to us.
I look like such a weirdo here, but all this joy is REAL. This was my 51st time leading the MTH Conference and it couldn't have been better. I love you, friends! Photo by Amy Nicole.
– Celebrate our 11 year wedding anniversary well. The traditional gift is steel (these materials always make me giggle!), so I'm considering either these collar stays stamped with Ari's favorite Bible verses or getting us family bikes. Well, we did celebrate, but I did not get Ari a gift yet. We wanted to see what it was like to rent bikes on our vacation and test out a bike trailer for the kids. It was great! I'm in research mode now to find the best prices and options to somehow get three kiddos to ride along with me.
We loved our time in Watercolor last week. I even met a PowerSheets user on the plane which was so fun!
– Finish 2016 taxes. Yes. We had a funny thing happen while we were working on them. We've used TurboTax for the last ten years for our personal taxes. Ari got to the final screen and the refund amount said $6,394,128.00! We laughed and Ari fixed the error, but it was a good and needed laugh in the middle of what can sometimes be a stressful experience.
– Hire our new team member/s! This is in progress and we expect to hire two new team members this month. Please pray alongside me that we make wise and thorough decisions. We've had so many wonderful applicants.
– Blog posts:
1. Release my book cover and film. YES! Hooray! Read all about it here.
2. Build and blog my "Cultivated Calendar." This one is getting moved to April! But, I did share my curly hair story here.
3. Parts two and three of my Gardening 101 series. YES! Double hooray! There are over 700 comments on the series – WOW. Here's the final Gardening 101 post. The giveaway winner is Sandra. Congrats, Sandra! 
– Celebrate Sarah's birthday. She turned one on February 26th, but with the sickness in our house, we moved the celebration to this coming weekend. Yes! Here's the recap of her celebration. 
– Celebrate Purim. Yes. Hamentaschen and the book of Esther were enjoyed by all!
I love this of Josh and me that Gina took! My little buddy.
– Begin afternoon Word refresh times: Amen Paper Company Lent study + memorize good words for goal number 3 by putting the verses on index cards this month. I hope to do this for a few minutes each afternoon to close my work day. This did not happen, once again. I did make progress on the scripture memorization thanks to a blog reader who suggested I add verses to my to-do app on my phone. But, the additional Bible studies and devotionals had to get nixed. I commited to too much. I already have my morning Bible reading time (which is going well) but I would be grateful for another time before I take over watching the kiddos at night and Ari comes home. Working on this.
– Take the next steps in garden planning, and decide on garden structures (we need a bench) and a final garden plan. I'm in a bit of a happy bind here — my winter garden still looks great! So, I have no motivation to remove anything right now to plant new things. These pansies and violas won't last in the strong heat of summer, but they are so happy right now. I may have to move some of them to make room for my seedlings and then direct sow the rest come early summer. I haven't decided yet. The other option is to make a whole new garden in the back of our house. This may happen!
– Make changes now to switch to my homeschool work schedule starting in the early summer. I haven't started on this, but I have come to realize it's just not the right time yet. 
– Spring cleaning! YES! I cleared things out, including the ladies' office. I shared a before shot in Instagram a couple weeks ago. After photo coming soon. And huge thanks to our amazing caregiver and friend Sarah for helping out in the office and for doing all sorts of things to bless all of us while I was away last week!
 I love this girl.
March weekly goals:
– Sabbath – lifegiving weekends. Yes. 
– Meaningful connection with Ari. Yes. Our two date nights on vacation were deeply refreshing.
– Pray through my prayer journal. I left it at home during our vacation, and I missed it. I'm excited to fill it out for April tonight.
March daily goals:
– Read my chronological Bible reading plan. Yes! I'm almost to day 100. The first part of Judges was not my favorite and I had a hard time paying attention, but I prayed for God to give me focus and He has. I'm in the middle of Samson's story right now, which is hard not to pay attention to!
– #RunLiftPraise Yes. At-home workouts continue and the weather is alllllmost at the point where I can get out in the mornings to walk (or bike soon!) with the kids. 
– Eat more raw foods. Yes.
– Be active in my work day. Yes, and it's a collective goal in our office to be more active this month, especially with so much computer work to do.
Now, on to April!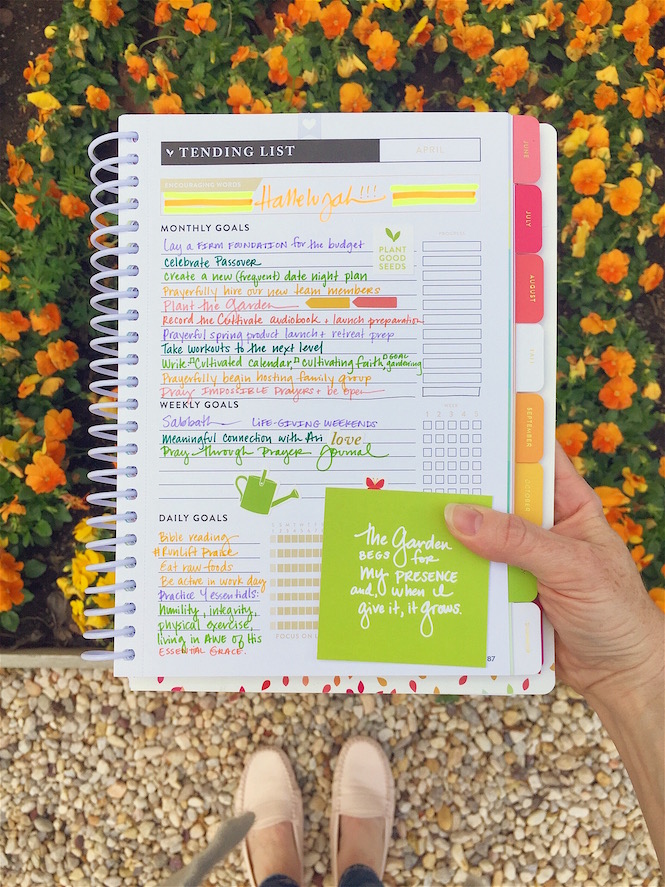 Out in the garden today.
My monthly PowerSheets goals for April:
— Celebrate Southern Weddings' birthday. I launched the first issue of Southern Weddings on April 1st nine years ago! As part of my yearly goal to live a year of radical gratitude and praise, I'm celebrating His faithfulness this week in all that has happened in those nine years. Celebrate along with us here.
– Lay a firm foundation for the budget. Lots to say here, but I have 10 minutes to finish this post before I have two babies in my arms for the afternoon. In sum, I'm working on creating a new family budget using EveryDollar. I feel resolved here and excited.
– Celebrate Passover (my favorite holiday!). We are hosting our annual (except last year because we had a newborn) Passover dinner at church next week. Ari does such a great job leading this from a messianic Jewish perspective. It always builds my faith.
– Create a new frequent date night schedule. We realized on our trip that we need to prioritize this in our budget and our schedules. As a benefit of working on the Southern Weddings/Cultivate team, we pay for monthly date nights for each team member. In the seasons that Ari and I have been in with kiddos, we haven't been able to do them ourselves on a regular basis. But, I finally finished nursing last month (hooray!) so we can more easily make this happen now. My first step is finding and interviewing trusted babysitters. I've already started this process.
– Prayerfully hire our new team members.
– Plant our garden! As mentioned above, I'm not exactly sure how to do this yet, but I'll keep you posted here.
– Record the audiobook for Cultivate and prepare well for the launch ahead.
– Prayerful spring product launch (the new Write the Word collection is SO BEAUTIFUL! I can't wait to show you next week!) and team retreat prep.
– Blog posts: Cultivated Calendar, Spring product release, Cultivating Faith, and many more.
– Host a meaningful Cultivating Faith webinar next week with Shanna Noel (register here!)
– Take my workouts to the next level. We got so much exercise on our trip last week from biking everywhere, and I really benefitted from it. Time to up my workouts this month in intensity!
– Lord willing, start leading our family group again. Our family group is splitting into three to have more intimate groups, and we're going to be leading a group on Saturday mornings so we can both be there. For the last few months, I've had to stay home with sleeping kiddos while Ari goes by himself. Not ideal, but we knew this would just be for a season. I used those nights to write in my prayer journal, but I have been craving fellowship!
– Pray impossible prayers and be open to new possibilities. This kept coming to me over and over on our vacation. Being away from our normal environment was so good to reset my brain and help me think outside of our normal routines and rhythms. I felt the Lord telling me to pray more boldly and so I have started that. One of those prayers was answered on Monday night and it was a BIG one! The story is miraculous and I can't share all the details, but I'll tell you that we are now in contact with our birthmom.
And all the tears came like a flood again as I typed that.
God is good. He is real. He is mighty. And He is listening to those prayers you think go unheard–the prayers you've prayed for what feels like forever. He is listening!
My guys. Doesn't Josh look like a little Ari with red hair? : ) 
April weekly goals:
– Sabbath – lifegiving weekends.
– Meaningful connection with Ari.
– Pray through my prayer journal.
April daily goals:
– Read my chronological Bible reading plan
– #RunLiftPraise
– Eat more raw foods.
– Be active in my work day.
– (A new one this month!) Practice my four essentials that I uncovered during the Making Things Happen Conference: humility, integrity, physical exercise — running with the Lord, and living in awe of His essential grace.
Your turn! I'd love to hear: Do you have goals for April? I'll pick one of you to send a special surprise box of goodies to from the Cultivate What Matters shop. I love sending real mail, and I love hearing your thoughts! Congrats to March's winner, Leslie MP. Leslie, send me your info here and I'll get your goodies to you!
Oh, Gina, I love these photographs so much!
P.S. What do you want to see more of here on the blog? Take our quick survey and be entered to win a shopping spree from the Cultivate Shop. Everyone who takes the survey will get a discount code to the shop, too! : )