Have any goals you're feeling "blah" about?
Maybe you're craving refreshment in your faith—fresh motivation in Bible reading, or prayer, or perhaps, like me, in trusting God over your worries!
On January 1, we did something together that changed us! We started the year with 31 days of writing the Word. Here's what happened:
We opened our Bibles together. Yes!
We started a new consistent habit we love.
We had FUN together—making progress on what matters is fun.
Little by little, word by word, our faith grew.

I'm ready to do it again and I'm inviting you to join me!
Starting August 1, with one single verse, we're going to refresh our faith together. How? A simple and impactful way: writing the Word.
No devotionals. No study guide workbook homework. We're going to get right into the Word. (This 1 simple habit has been a game-changer in my faith this year!)
Join me for 31 days of writing out scripture with the Fresh Faith Challenge, starting August 1st!
It's simple:
1. Order your Write the Word Journal by Monday (July 22) to get it in time for the Challenge to begin—I'm going to be using the new Garden journal if you'd like to join me! (You're also welcome to go the DIY route—grab some scrap paper and you choose your own verses alongside us!)
2. Register for the free challenge today, and I'll send you encouraging emails and updates as we go—plus I'll give you access to our private Facebook group (if you use Facebook)!
3. Get ready for a refreshing month ahead!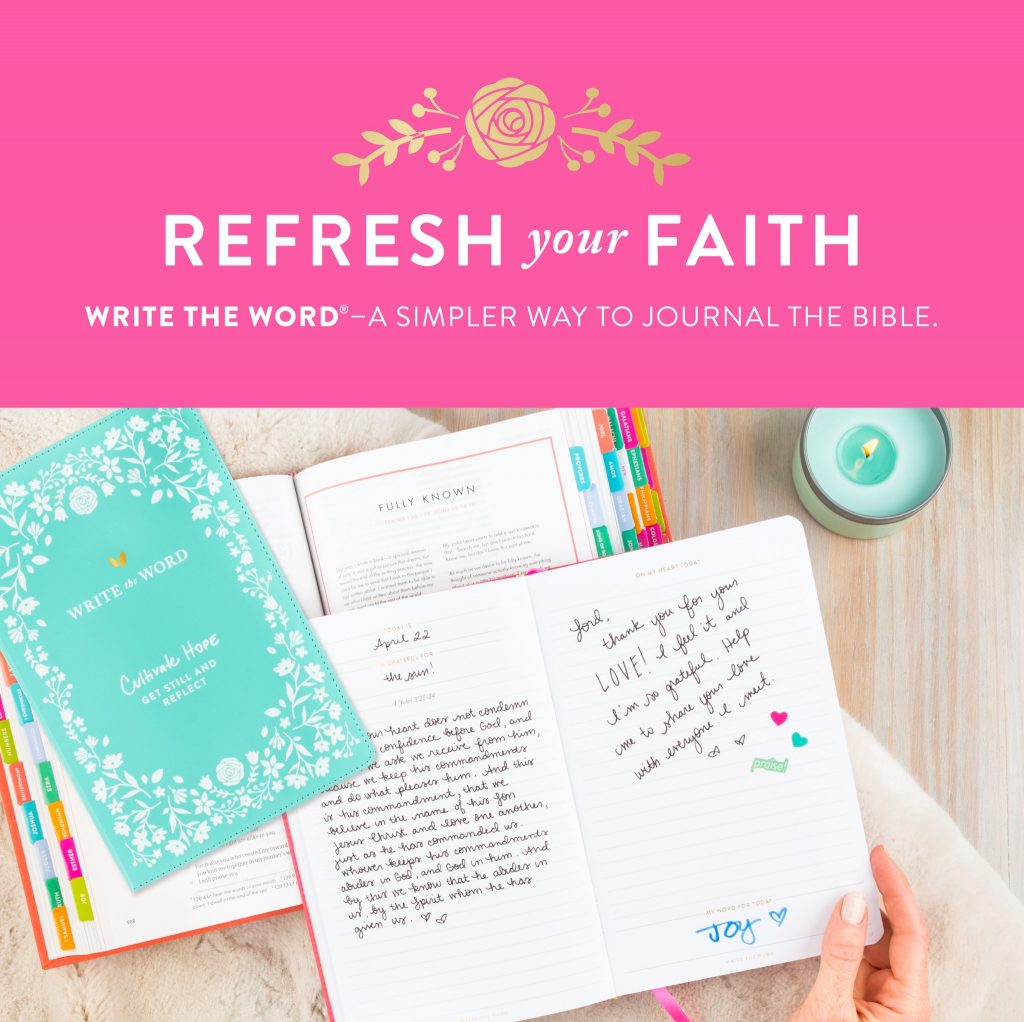 When you write the Word in your own messy handwriting, something happens to your brain. You start making decisions about what you're writing (as opposed to typing it digitally or just reading it and forgetting it five seconds later). When you write scripture, it gets in your heart, no distractions—it's just you, the Word, and your pen and paper.
The Fresh Faith Challenge: 31 Days of Writing the Word kicks off August 1st and I can't wait to do this with you! Just enter your email below and you'll be all set!
[convertkit form=5271272]
Tell me in the comments below if you're joining in the fun! I'm excited to start this challenge with you!