Hi, friends! Welcome to Part 1 of the 2019 Goal Setting Series! If you're new, I'm so glad you landed here. Part 2, Part 3, Part 4, and Part 5 are also live!

Note: We are so grateful that ALL of our 2019 One-year PowerSheets are SOLD OUT. But, good news! You can get started at any time with Six-Month Undated PowerSheets (available NOW), which include the same Prep Work as the One-Year Goal Planners! New to the party? Head to the Cultivate Shop or say hello – we're so glad you're here!
Want to listen to this post? I'll happily read it to you! Enjoy!
You came here for a reason. What is it that brought you here?
Maybe you're feeling frustrated as you look back at 2018.
You didn't make as much progress as you hoped on some of your goals—or you forgot about them completely.
Perhaps goal setting has failed you before and you feel defeated already thinking about the new year. You're considering going "goal-less!"
Perhaps you stumbled on this post and it intrigued you because you want change in your life and it feels really far away. You need a way to get from where you are now to where you want to be.
Or maybe this year has been great—you made progress on the right goals and you want to keep it going for 2019!
No matter what led you here, you are in the right place.
Your imperfection, your past failures, your heartache, and your triumphs are all welcome here. In fact, they might be the very things that propel you forward on a fresh new path.
How?
Welcome to the Eighth-Annual Intentional Goal Setting Series. We're eight years strong, friends! Many of you have been doing this process alongside me since year 1 (your goal updates each year blow me away) and I'm so pumped for this year!
If you've tried goal setting before and burned yourself out—or didn't follow through—you're right where you're supposed to be.
If you aren't convinced yet that setting goals could be life-giving for you this year—no perfection required—you're in the right place, too.
Whatever it is for you, I just want to reassure you that you are here for a reason and you're about to make it happen. If you are new to this series, a big welcome from all of us—you're in for a treat this year!
Whether you're a mom, a student, a business owner, an empty nester, in a season of transition, or a season of starting fresh—in any place where you are in life, we're going to let go of guilt-filled, fleeting resolutions, and embrace a whole new way of doing this goal setting thing.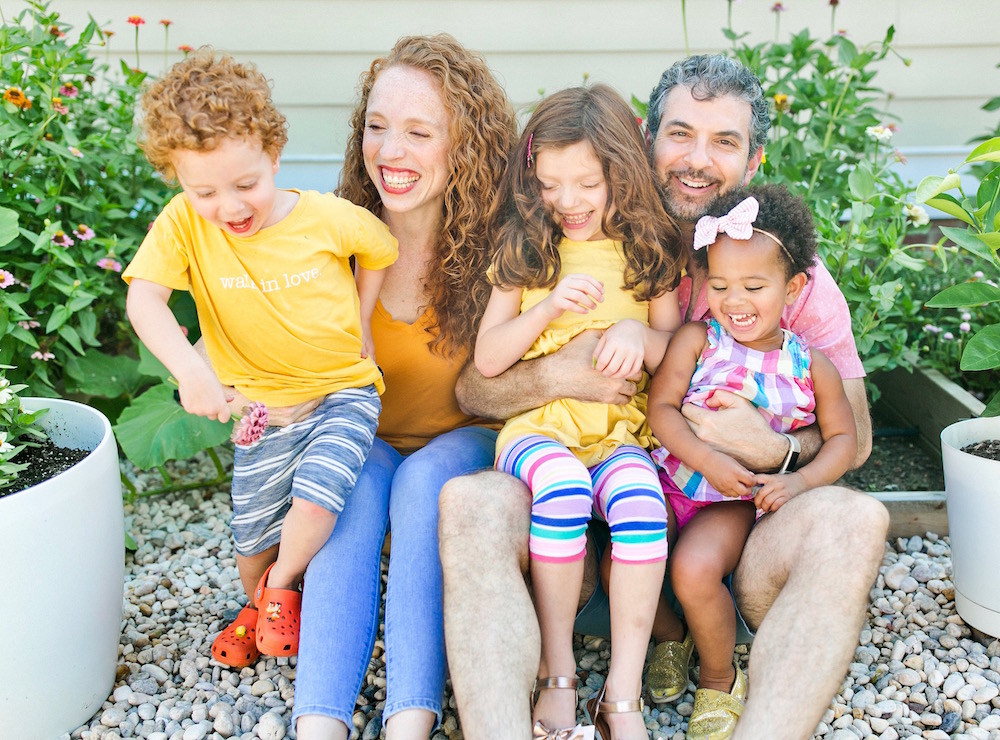 Let me back up a bit and introduce myself, because we're going to have some fun together over the next few days as we go through this 5-part series!
I'm Lara. I'm a mom to three, a grateful wife, CEO of a growing company, and I love getting my hands dirty in my garden here in Chapel Hill, North Carolina. I've written two books about goal setting and intentional living, I've led a conference called Making Things Happen for 9 years, and I was once a personal trainer, a wedding planner, and the Editor-in-Chief of a wedding magazine.
I am the creator of the best-selling PowerSheets® Goal Planner and I don't love goal setting. No, that's not a typo. I do not like traditional goal setting. The words "goal setting" give me the heebie-jeebies!
Like you, I have a lot of things to take care of in my life, and I don't have room to add a lot more (I'm guessing that's like you, too). I get tense even thinking about the pressure to accomplish something beyond my current capacity. (Areyouwithme?)
Goal setting. No thank you.
If you are feeling this right this second, we are going to be fast friends. You've found your people! 🙂
I set out to uncover a process that works for the rest of us. I flipped the usual process on its head and guess what: I started seeing real results with zero pressure. I discovered that I didn't need to make perfect progress to see results, and it's SO FREEING. I'm going to guide you through my exact process in this series.
This is goal setting for people who hate goal setting.
We don't do traditional, pressure-filled, do-it-all goal setting around here. We uncover intentional, less-is-more goals. I call these "cultivated goals."
Cultivated goals are about growing what you've been given—what you already have: your relationships, your money, your possessions, your work, your children, your home, your health, and your time. A little intentional forethought goes a long way!
Consider the script officially flipped!
From here on out, when I mention "goals" or "goal setting," know that I'm talking about cultivated goals:
Over the last eight years that I've been writing this series, as my life has dramatically changed, so has this goal-uncovering process. I've studied what makes us feel unmotivated, what causes us to follow-through, and I have listened to you. I've followed your stories and challenges and incredible successes over these years as we've done this together. Through it all, I've discovered some pretty amazing "secrets" to doing this life with intention.
What causes people to change starts with one pivotal moment. It's the moment when you decide that the pain of staying the same is greater than the pain of change. It's the moment you decide you are tired of doing the same things you've always done and getting the same results you've always gotten.
This might just be that moment for you.
Now, you could just stop here and quit before even trying. You could do that and I won't judge you! 🙂 I've given up on a whole lot of things in my life right at the starting line. But, here's where that might leave you (like it did for me): going through the motions, not feeling confident that you're on the right path, getting distracted, lacking motivation, not taking care of what you've been given, and generally wasting your time.
Or you could end 2019 knowing you lived your best year—no perfection required. Cultivated goals—the kind we are going to uncover together—give you direction and motivation. And it all starts with one small step. (I'll tell you that one step shortly!)
My 2019 Goal Ideas page from my PowerSheets Goal Planner.
Here's what you can expect in this five-part series: Each day, I'll walk you through a mix of goal-uncovering steps from my first book, Make it Happen (which you can sample here); insight from my second book, Cultivate; key questions from a decade of leading the Making Things Happen Conference, prompts from the 2019 PowerSheets®; and a few surprises!
The PowerSheets and my books have many more goal-uncovering insights and guided worksheets than I'll include in this series. They make it easy to take action on your goals throughout the year instead of just setting them once (and then forgetting about them!). NOW is the perfect time to get your 2019 PowerSheets if you haven't already—the order deadline for domestic New Year's delivery is TODAY. Use the code BESTYEAR2019 for 15% off your entire order! (Yes, it even works on our already-discounted Make It Happen Bundle!) Our fulfillment team ships quickly, and you should have yours in time to work through this series with us—hooray!
3 WAYS TO GET THE MOST OUT OF THIS SERIES:
1. Instead of just thinking your answers, write them down. This is so simple and impactful! As we go through each goal uncovering step together, use the comments section to leave your answers, or write them in your PowerSheets, a journal, or on scrap paper. Don't just think your answers. Thinking them doesn't count. Write them out and, if you want accountability, leave them boldly here in the comments. I want to cheer you on, and I'm going to leave my answers in the comments, too!
2. Cheer her on! You know how it feels when someone encourages you? Yes—amazing! Let's do that for each other throughout this series. You never know how your words might change someone's life forever.
3. No matter what you use to set your goals, USE IT. If you tend to buy journals or planners and they sit on a shelf for all of time (been there!), let's turn that habit around starting now. Practice what I call "making a mess." You aren't gonna let the need for perfect handwriting or perfect answers or perfect timing keep you from uncovering your best goals, are you? Didn't think so. (I love you!!!) Use whatever you have to write with, and on. It doesn't have to be perfect. Just dig in. If you need an extra kick in the pants to make it happen, I have a giveaway at the end that might encourage you to get to it!
Ready to dig in?
(Yesssss!!! I'm so pumped for you!)
Step 1, here we go!
Do you know the reason you burned out and gave up on some of your goals (or all of them) somewhere around mid-January or February? Let me guess. You added things to your already-full plate without subtracting a few things first. That's like planting new seeds in a garden that's already packed full.
To grow new things, you first have to take a look at what's already there. Then, you can either keep growing those things, or clear them out and make room for new ones. Let's do that together right now, taking a look at how we are doing today so we can avoid burnout—and finally follow-through on the things that matter to us. This will feel so good!
Old you: growing allthethings at once. The result: nothing grows well. You do a lot of things mediocrely.
Cultivated you: growing the right things, one step at a time. Doing a few things well and loving it!
STEP ONE: (Remember the one step I told you about earlier? This is it and it might surprise you!) How are you? Really. How are you? Look at the 7 categories below and write a few thoughts about how you are doing in each one:
— Health
— Friends
— Family (including your significant other, if applicable)
— Finances
— Spiritual + Personal Growth
— Work
— Recreation
Feel free to write in your own categories, too! Give each area of your life a rating between 1 and 10, along with a few thoughts on why you chose that number. 1 means you are not satisfied in the area and want to see radical change. 10 means you are happy as a bee on honeysuckle!
This is step one for a reason. "How are you?" seems like a simple question, but when answered from your heart of hearts, it can help set you on an entirely new path.
Knowing where you are now, mess and all, helps you to leap to where you're going.
The soil you're standing on right now is your growing ground.
How are you? What's growing well—or not so well—in your life? Reply in the comments, or on paper. I'll leave my answers in the comments, too!
Maybe you're thinking, 'Oh, Lara, every category is terrible for me!' Guess what? You might think I've lost my marbles, but I think that's GREAT! It means you have more opportunity for great change ahead than others. That's exciting! So, call each category what it is—I'm cheering you on as you get honest write it out—and let's count those challenges as the crazy amazing opportunities they are.
Especially if you gave low ratings to some areas, include thoughts about what is good in each area, too. For instance, as for my feelings about finances: I've been challenged by contentment and emotional spending at times. I have felt especially frustrated this year by working hard to keep our finances in order and out-of-the-blue things have happened that knocked us off course. But! The positive it that over the last year, despite it being imperfect, I've become more skilled at managing money. (A couple years ago I wouldn't have been able to type that!)
Allow yourself to write the things that may feel undone, imperfect, or hard, and write in some positive thoughts too—even if the positive feels tiny!
Now, a bonus challenge: let the dirt be dirt. Once you've written everything out, be still with your feelings for a moment—whatever they may be—without trying to change them or push them away immediately. Let the challenges and places you'd like to grow sink in a little.
If you're like me, I often want to fix my circumstances right away instead of letting myself feel anything at all. My instinct is to reach for a distraction when faced with something that feels hard. (Anyone tempted to go scroll Instagram right now?) But, that never brings me peace or clarity. So, let's not do that. Maybe the soil of your life needs some fresh nutrients, or maybe there are some big rocks in the way of you planting new things. The only way you'll know though, is to see what's there first.
Besides…
All those rocks and weeds?
They are pockets of purpose waiting to be transformed!
STEP TWO: Watch this video (or at least the first 30-ish seconds) that some of my closest friends and I made for you…
What have you been chasing recently, or in the last year? Do you feel like you are "chasing perfect" in some ways—attempting to measure up to an impossible standard? Write or type here what you have been chasing, and how that has been making you feel. Maybe you've been chasing success, significance, or approval. Maybe you've been trying to keep up, survive, or just get through. Whatever you've been chasing, name it boldly and know that you are not alone. To name your chase is to destroy it.
STEP THREE: In traditional goal setting, you focus on the future, and on achieving your goals as fast as humanly possible. That is a recipe for b.u.r.n.o.u.t. I've done it many times before, and it's a dead end. But! Uncovering really good goals means learning from the past in order to cultivate what's next. The past has a lot to teach us! Let's take a look back at the last year.
What good things happened in 2018? What grew well? What are you grateful for from the last twelve months?
I know this can be a challenging step. We often don't like counting our blessings, because it may feel self-indulgent or like it won't get us anywhere fast—or perhaps you are thinking that there were no good things that happened in 2018! It's easy to look back at an entire year and see only the hard parts, like when something happens to you at the end of the day and you automatically call it a bad day, regardless of what happened the other twenty-three hours.
Let's do a little digging! A few tips to unearth the good stuff:
— Talk to your significant other or a close friend about your year and ask him or her to reflect some of the highlights back to you. He or she may remember some that you have forgotten! This is also a great way to celebrate the good things of the past year with others. Make it your dinner conversation tonight. (A tip: try going quarter by quarter – it might help to jog some memories!)
— Take a look back at your calendar, blog posts, social media updates, or photos. Those might give you a clue into some of the good things you've forgotten.
— If you are a PowerSheets user, read through your 2018 PowerSheets!
— Review your finances from the year. This is like reading a journal of places you went, and what some of your priorities were.
My Good Things: My word for 2018 was LIGHTSPACE (I made it up—it just fit!). What that looked like this year: making room for the things that mattered, even when it was hard. And a lot of it was hard. But out of hard things come good things, and pruning is what makes our lives more fruitful!
This was the year…
– We let go of Southern Weddings after a decade of making a magazine that changed the world.
– Grace learned how to read, climb trees and we did some knife skills training in the kitchen—she's a pro!
– We grew a giant pumpkin.
– Josh learned to use the potty—praise the Lord, we're so close to being out of diapers.
– Sarah grew leaps and bounds. Through therapy and God's goodness this year, her sensory challenges have turned into beautiful opportunities.
– Our peach tree grew 100 peaches!
– We fell in love with the mountains and I discovered a new passion for hiking.
– We celebrated 12 years of marriage—a significant anniversary for us. We've now been married more years together than apart. Read Make it Happen or listen to episode 1 of my upcoming podcast and this fact will come to life for you!
– Speaking of the above, I felt the fear and started a podcast anyway. (Launching December 27th!)
– We marveled at the 55th Making Things Happen Conference experience. It was so good—this coming year will be our 10th year!
– I learned to trust God more than ever.
– I am on track to finish the Bible by December 31—my number 1 goal for this year!
– We got into a homeschool rhythm using the cultivated homeschool planner.
– I invested in 20 things that paid off.
– And most notably, my husband Ari started rapping.
I set six goals for the year and made more progress in each than I ever thought possible. A year ago, I knew I'd be so grateful I started these goals, and little by little, they happened! Did I mess up along the way? Yes! Did I have some challenges? Definitely. But, imperfect progress is still progress, and when you embrace that fact, you are far less likely to completely jump ship! My imperfect progress added up big time, and yours will too!
A peek at the little by little progress I made each month: February / March /
April / May / June / July / August / September / October / November (and December isn't over yet!)
Now, name three lessons you learned from the good things. For example, in my life there were many times last year that good things happened when I let go of control—whether getting on my knees (literally) in prayer or in looking at how I could change instead of hoping others would change. The lesson for me was a big one: let go. Surrender. Humble yourself. That's where change begins.
Your turn! Here are today's 3 goal-uncovering steps for you:
1. How are you? How are you doing in each area of your life and which areas do you most want to improve?
2. What have you been chasing lately? How is that making you feel?
3. Write your list of good things and lessons you learned.
Then, share your answers here in the comments to encourage others. I can't wait to personally cheer you on. And remember this: we're tossing comparison out the window and doing the most radical thing we can do: walking our own unique paths (and cheering other women on as they do the same)!
A page from my 2016 PowerSheets:
Okay, that's it for today and that's plenty to work on. I'll be back Friday with more goal-uncovering goodness!
Take your time with this and remember, cultivating what matters is about progress, not perfection. This is not about writing the perfect list of perfect goals with a perfect pen. It's about digging into the dirt, right where you are, to grow, tend, and harvest what you've been given.
This process will have a big payoff, but you have to commit to working through it. Let your 2019 goals bake, like a pan of homemade hot cinnamon rolls fresh out of the oven. They wouldn't be flaky and yummy zapped quickly in the microwave, would they? They'd end up as a big pile of mushy dough. I'm not going to hand you your 2019 goals; we're going to do this right and bake them well together, little-by-little, with some bold leaps of faith along the way. Sound good? Awesome!
Need some extra motivation? The Ultimate New Year's Giveaway is on! (Amazing! Can I win??) I hope this gives you a little extra encouragement to share your answers as we go through this series. I can't wait to read your thoughts and hear your aha! moments. One person who comments with answers to every step in this series will win a bonus prize: one of everything from the Cultivate What Matters® Shop! Yes!!! This includes 2019 PowerSheets, the new Celebrations Binder, a Goal-Setting Sticker Book, your choice of Make it Happen zipper pouch, my books, and so much more! There are 35 prizes, so that means 35 of you are going to win one of these prizes—it could be YOU. (Including international friends!)
A big thank you to everyone who entered! What a joy it was to hear your responses and get to chat with you in the comments! Congratulations to our winners below! If you're a winner, fill out this form to collect your prize within 48 hours or a new winner will be selected!

— 10 sets of 2019 PowerSheets to help 10 of you cultivate your BEST year yet! —Mary Conti, Emily Yost, Amy Wing, Jen Martinez, Brittany Garrett, Chelsea Pirtle, Mariah Meade, Kimberly Boyd, Tonya Kappes, Amber Corey
— A Goal Guide Bundle to help you dig deeper on your specific goals. — Jaimie Tollers
— Five signed copies of Cultivate. —Lisa McMahon, Patrice Pierce Thornton, Steph Conklin, Bonnie Johnson, Kristin Vlasak,
— Five signed copies of Make It Happen. —Michele Lanning, Mariela Capellan, Amy Bain, Stephanie Canete, Amanda Applegate,
— One Write the Word All Seasons Collection to help you cultivate fresh faith all year long. —Becki Sue
— A gift card (YES!) for a massage to kick off your year refreshed! —Ashley Bossong
— A Balanced Life membership – get moving and motivated with a year of at-home pilates! —Heather Renee
— A Floret Flowers puzzle (it's double-sided and so much fun!) —Leah Meadows
—A Revelation Wellness membership with a 'Wellness Kickoff Package" to cultivate your health in the New Year. —Elizabeth Hiney
— One Artifact Uprising album to document the people and experiences that matters most to you. —Natalie Gessell
— An Emily Ley Simplified Planner to keep your schedule organized in the new year. —Amanda Burley
— Dave Ramsey's Financial Peace University course—a life-changing experience to help you pursue financial freedom. —Cindy Booth Carlson
— One Val Marie Paper Yearly Prayer Journal. I'll be using one this year, too! —Michelle McQueen
— A Hello Fresh boxto keep you fueled with good food. —Kate Mariani
— One Art Bar canvas (up to $150 value) to brighten your walls. —Gina Abatiello
— A Fitbit to help you celebrate your literal steps forward. —Evangelina Cantu
— An Amazon Alexa to keep you dancing. —Rachel Whorley
And the bonus prize for one of you who comments on all 5 posts in this series: a ONE OF EVERYTHING Bundle from the Cultivate Shop! —Katie Ledvina
Why am I doing this? I want you—yes YOU—to know what I know now on the other side of burned out and overwhelmed: there's a different way to do this—a way that works. Step by step, you are going to feel ready, renewed, and clear about your year ahead. I'm so excited for you!
SHARE THIS SERIES WITH YOUR PEOPLE. Don't keep all this goodness to yourself! I'd be so grateful if you spread the word about this free series. Email this kick-off post to your friends, tweet it, 'gram it (here are lots of sharable graphics for you to make it easy!), text it—sing it to the rooftops! Let's get all our friends in on this so they can feel as refreshed and clear about 2019 as we will. Here's to our best year yet together—starting now!
Giveaway ends January 30th. Winners will be announced on February 1st here on the blog. Hard goods are for US entrants only. If you don't claim your prize within 48 hours, another winner will be selected, so mark your planners and stay posted! 🙂 This post contains affiliate links.
P.S. A year from now, you'll be so grateful you started today! Buy your PowerSheets NOW!